High-Tech & Comfort Amenities
Get advanced dentistry that's gentle, effective and pain-free
Dr. Charles Flowers' office is filled with the latest technology making treatments less invasive, more comfortable, more effective and more accurate. Dr. Flowers uses this technology to perform the latest minimally-invasive procedures to give his patients healthy, beautiful smiles. He's a very gentle dentist and will make sure your treatment is comfortable and as pain-free as possible.
Dr. Flowers will take the time to get to know you and listen to what concerns you. This way, he can create an individualized treatment plan that's designed specifically for you and your budget. Your satisfaction is Dr. Flowers' ultimate goal.
Modern Dental Technology
Dr. Flowers uses the latest technology to ensure that his patients get outstanding dental care. Advanced equipment helps him to diagnose conditions quickly while making your experience in the chair more comfortable and pleasant. Here are some of the different state-of-the-art dental technologies Dr. Flowers uses:
Gendex Panorex X-rays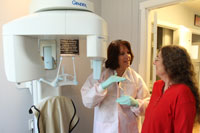 This low-dose digital X-ray machine provides a two-dimensional, panoramic view of your mouth, enabling Dr. Flowers to see the full scope of your teeth and jaw in a single X-ray. These high-speed X-rays use 80% less radiation than ordinary ones yet produce a nearly instantaneous image.
Rotary Endodontics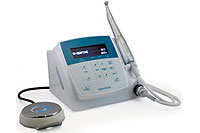 This is a modern method of performing root canal treatments using an electric handpiece, which expedites endodontic therapy and safely and accurately cleans and shapes root canals.
Ultrasonic Scaler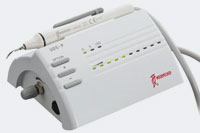 Ultrasonic scaling is usually more efficient and comfortable than hand scaling. Ultrasonic scalers vibrate at a frequency that breaks down bacteria and removes calculus, tarter and plaque without harming your teeth.
Nouvag MD-20 Surgical Implant Motor System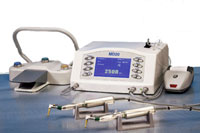 Dr. Flowers uses the most powerful Surgical Implant Motor available for jaw surgery to make dental implant surgery easier on you. The microprocessor controlled, brushless dual electronic motor system provides maximum microsurgery versatility for Dr. Flowers under all operating conditions.
Comfort Amenites – Gentle dental care
Dr. Flowers and his staff are known for their skill and competence, their thorough knowledge of dentistry and, most of all, their genuine friendliness and personal care for each patient. Our patients routinely comment on how gentle we are.
Your comfort comes first
Dr. Flowers and his caring staff do a great job of relaxing patients. They'll listen to your concerns, answer all of your questions and do their best to make sure you're comfortable throughout your visit. Your comfort is very important to Dr. Flowers. That's why he offers:
Goggles to eliminate glare during procedures
Comfortable ergonomic dental chairs
Soft blankets to keep you warm
Warm scented towels to refresh yourself
Minimally-invasive surgical techniques
Noninvasive high-tech diagnostics
Gentle ultrasonic cleanings
Feather-soft painless injections
Oral sedation for long procedures or for very nervous patients
Very gentle injections
It's estimated that millions of Americans avoid the dentist because of a fear of needles. That's why Dr. Flowers goes out of his way to give injections that are pain-free. He starts with a warm topical anesthetic to numb the area so you hardly feel the needle, and uses very small needles to deliver the numbing anesthetic. The injection itself is gentle and hardly noticeable, if at all.
Oral Sedation Dentistry
Some patients get very nervous when it comes to dental treatment. For those patients we offer oral sedation. Oral sedation is taken in pill form and is used to help you relax. Dr. Flowers will then monitor your comfort during your visit. Oral sedation uses anti-anxiety drugs to remove stress and relax you. For minimal sedation that takes the edge off, you'll usually swallow a pill about one hour before treatment. You'll feel drowsy but you'll still be awake and aware of your surroundings to some degree. A larger dose can produce moderate sedation, which will make you feel groggy and may put you to sleep during the procedure. A gentle shake is all that's needed to awaken.
When using oral sedation you'll need someone to drive you to Dr. Flowers' office and then back home again.
Hospital Dentistry – Servicing Patients with Special Needs
For patients with special needs, such as patients with autism or cerebral palsy, Dr. Flowers offers in- or out-patient hospital dental services. It is possible for him to do a wide range of dental procedures right in the hospital. This can make it easier for those with medical problems or who are best treated with general anesthesia.
To make an appointment, call 803.787.6646 or click here to request an appointment online.