Dentures
Natural-looking Dentures that let you chew with confidence
You want dentures that are comfortable and will not continuously move around when you eat. There is no substitute for a set of high-quality dentures.
Dr. Charles Flowers combines over 30 years of experience with extensive advanced training in prosthetic dentistry (artificial teeth) to create beautiful, lifelike dentures. He will perform your procedure so you get optimum results, making sure your dentures not only fit precisely, but are comfortable, too.
In a comprehensive New Patient Exam Dr. Flowers will take his time to discuss with you your goals and the various denture options that can meet those goals. He offers custom shaping, shading, fitting and alignment for a totally natural look.
Types of dentures
Full Dentures
It is important that dentures look natural and beautiful. But it's also important that they work well when you chew. That's why at the top of Dr. Flowers' list is making sure you have a proper bite. His lifelike dentures are precision-fit and designed to give you the healthiest bite possible.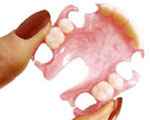 No-metal partials
With Dr. Flowers' no-metal dentures, no one will notice you are even wearing dentures. Rather than partials with metal clasps, he uses no-metal partials that are secured with very durable plastic clasps. Dr. Flowers' no-metal partials are ideal for most patients needing a partial denture, the only exceptions being people who clench or grind their teeth or who have a heavier bite.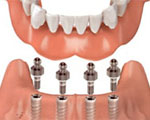 Implant-Supported Dentures
An implant-supported denture snaps onto implants placed in the jawbone and is removable. This type of denture fits over a bar or ball and socket and is then securely clipped into place by the attachments. Read more about Implant-Supported Dentures.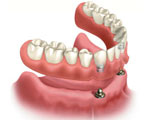 Denture Stabilization
If you already have dentures but they are uncomfortable or loose, denture stabilization might be your ideal solution. By placing implants with snaps on the lower and upper arches of the mouth, Dr. Flowers can stabilize your current dentures. The more implants used the more stable the denture will be. Read more about Denture Stabilization.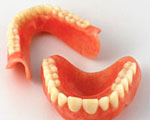 Immediate Dentures
There's no reason to go home without teeth after a tooth extraction. Dr. Flowers can fit you with attractive and comfortable temporary dentures. When your gums have healed he will fit you for permanent dentures.
High quality, fast turnaround
If you think you might need dentures, you should visit Dr. Flowers. Your dentures can be ready with very little wait time. Dr. Flowers uses an excellent local lab that he has been relying on for many years that does top-quality work and has a quick turnaround.
Even if you are currently wearing dentures and would like more comfortable ones – or you would like to stabilize the ones you have with implants – you should come in for a New Patient Exam with Dr. Flowers to learn your options and get all of your questions answered.
To make an appointment, call 803.787.6646 or click here to request an appointment online.